Been looking for the dairy-free dream? We see you. Here at nooj HQ we were fed up of watery plant milks filling up the fridge and tasting a bit, well, bleurgh. So us nooj nerds created the nuttiest, planet-friendliest paste there is. With just a dash of water, it saves space in your fridge, leaving you room to get creative and nooj up whatever foods you fancy.
Necessity really is the mother of invention…
It all began in a kitchen with a small, overstuffed fridge and a growing family. Room was running out for our homemade almond milk in the fridge door. So, bit by bit we shrank it. We got nerdy and crafted a thicker, creamier and more intense almond milk paste, which meant better taste, less waste and less room in that fridge. And so nooj was born – a real alternative to the alternatives. It's not only a wholesome base for a delicious nut milk, but also a clever cooking paste with endless possibilities.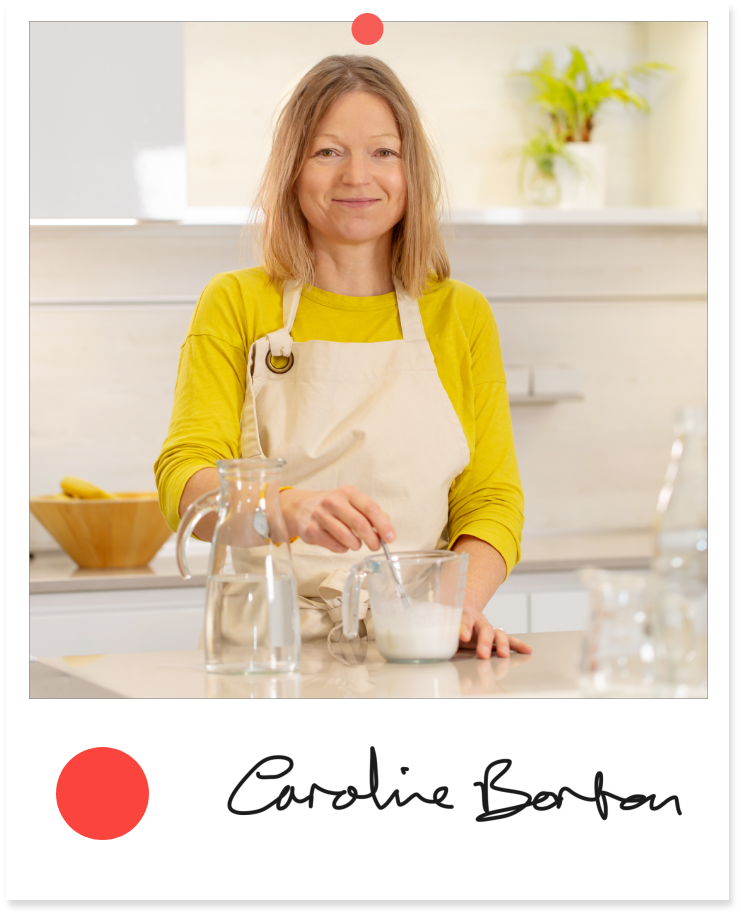 Fancy a frothy coffee? Dreaming of buttered sourdough? Need some Greek yoghurt for your granola? No worries, just nooj some up…
Milk
Super skinny for your morning tea or full fat on your granola? Just add water and milk it your way.
Cream
For an indulgent pouring cream with all the goodness of nuts, use 1 part nooj, 1 part water.
Butter
Add your favourite oil to whip up the perfect dairy-free butter (delicious on hot sourdough or crumpets).
Yoghurt
Add a splash of water and freshly squeezed lime, lemon or grapefruit juice then spoon over your granola.
Mayonnaise
Take nooj butter to the next level by adding white wine vinegar, Dijon mustard and crushed garlic.
Porridge
Oats and nooj are made for each other - squeeze 1 tsp of nooj into your pan with oats, maple syrup and water.
Tea
Cashew's your gal here, milk it skinny for a not-too-creamy taste.
Coffee
It's all about the almond in a hot or iced coffee. Go frothy by noojing freshly boiled water, then use your milk frother.
Hot chocolate
Mix a heaped teaspoon of cocoa with 2 of nooj. Gradually add hot water and sweeten with maple syrup.
Baking
Use almond nooj butter in your bakes and biscuits. Cashew nooj makes a mean buttercream too.
Smoothies
Nooj is the best base for a super smoothie – blend it with water, fruit or veg, and oats or protein powder.
Soups & sauces
Give your soups or sauces a creamy boost with neat nooj or mixed with water, stock, citrus juice or wine.
Curry
Ideal for adding creaminess to curries when coconut just won't do – simply squeeze into your sauce and mix.
Burgers and patties
Nooj is a great binder of ingredients in pies, bean burgers or pasta fillings.