Dips – Raita, Beetroot & Garlic Aioli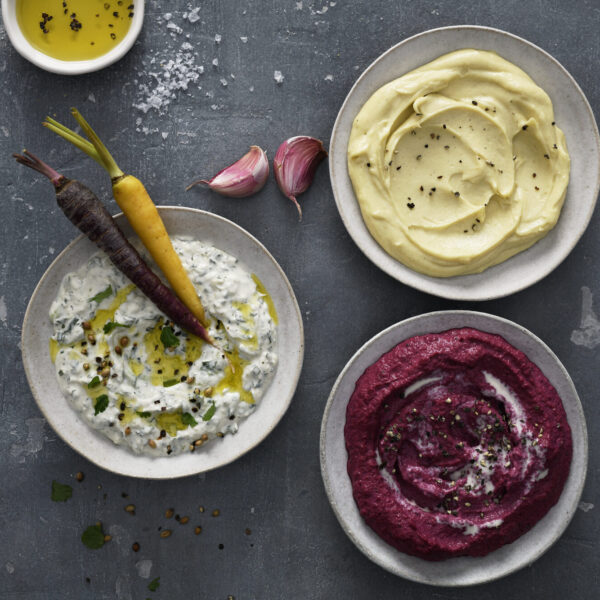 Stores in fridge for 3 days
These three delicious dips are perfect for getting the party started or simply spicing up your fries, salad, roast veg and baked potatoes.
RAITA
100g nooj (cashew works well here)
75ml water
Thumb-sized piece of ginger, peeled and grated or finely chopped
1 fat garlic clove, crushed
½ small pack of fresh coriander
½ small pack of fresh mint
Zest and juice of a lime
¼ cucumber grated
Pinch of ground cumin
STEP 1
Combine the nooj with the water using a fork or whisk, start with a splash at first to loosen, then add more gradually.
STEP 2
Add the rest of the ingredients and combine.
BEETROOT DIP
500g fresh beetroot or 350g pre-cooked (not in vinegar)
150g nooj almond Paste
5 fat garlic cloves, mashed with 1 tsp of salt
Juice of 1 lemon
2 tbsp of tahini
1 tbsp good olive oil
STEP 1
Prepare the beetroot by scrubbing, trimming off the ends then cut into wedges. Toss in olive oil then roast, turning occasionally for about 30 mins at 180 degrees. When the beetroot is tender, remove from the oven and allow to cool. If you're using ready cooked beetroot, wrap each one in kitchen paper to remove any excess water as this will make the dip watery.
STEP 2
Add the beetroot to the bowl of a food processor along with the garlic, lemon juice, tahini, olive oil and nooj. Blitz until smooth.
STEP 3
Serve with a little extra oil, chopped fresh herbs, toasted nuts and seeds and something to scoop it with. Also delicious on roast veg or baked potatoes.
GARLIC AIOLI
100g almond nooj
50g olive oil
25g extra virgin olive oil
2 cloves garlic, crushed
1 tsp Dijon mustard
1 tbsp white wine vinegar
STEP 1
Follow our method for the nooj butter and gradually mix in the oil.
STEP 2
When all the oil is combined, stir through the other ingredients.
These dips are a real crowd-pleaser at parties, we serve them up for plant-based or dairy-eaters alike – everyone loves them.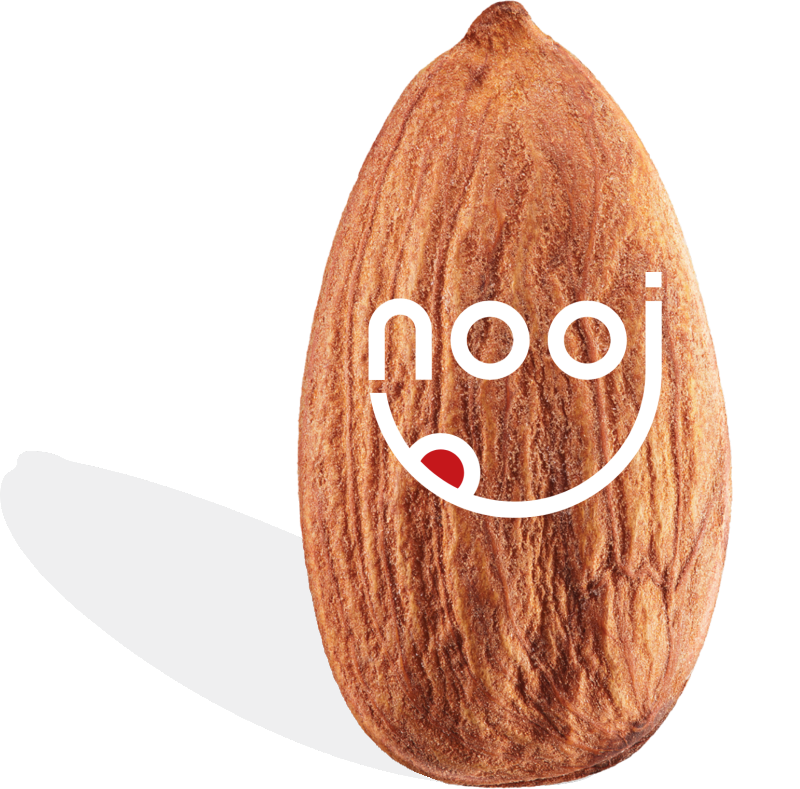 You can make other great dips with nooj too – try using cooked veg like roasted squash or peppers, artichokes, broad beans or lentils. Just use your imagination…