Spinach and Roast Squash Lasagne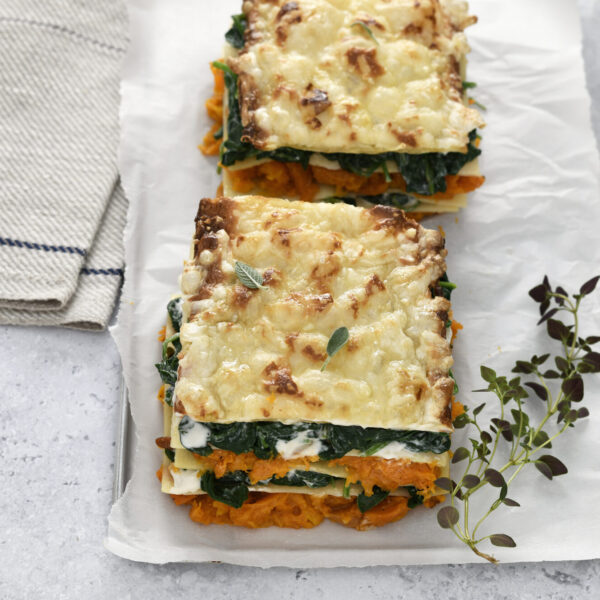 Prep time
30 mins
Cooking time
35 mins
Stores in fridge for 2 days
This quick and easy lasagne packs in lots of veg and uses nooj to create the cream sauce, saving you the bother of making a bechamel. Serves 6.
LASAGNE
150g nooj (cashew works well here)
6/7 sheets of fresh lasagne or the equivalent of dried lasagne (pre-blanched in boiling water for 5 minutes then drain separately so they don't stick together)
2 tbsp cornflour
400ml stock (1 stock cube plus 380ml water)
300g fresh spinach
1 medium squash, peeled, de seeded and cubed
200g grated vegan mozzarella
Few sage leaves
4 large garlic cloves
100g pine nuts, toasted
Grating of fresh nutmeg
STEP 1
Roast the squash, unpeeled garlic cloves and sage leaves for about 30 - 40 minutes at 180C, turning occasionally until golden brown. Allow to cool.
STEP 2
Blanch the spinach with a kettle full of boiling water, do this in 2 batches, then when cool add to a clean tea towel and squeeze out the water. When fairly dry, chop.
STEP 3
Gently dry fry the pine nuts until golden, be careful as they can brown very fast, set aside.
STEP 4
Gradually add the stock to the nooj and cornflour (add a little, mix, add a little more), whisking as you go. You will need the consistency here to be that of single cream, then add a grating of fresh nutmeg and black pepper.
STEP 5
Add the nooj and stock mixture to a saucepan with the spinach, stir to combine and heat gently till the mixture simmers. Simmer gently for 1 – 2 minutes to thicken slightly, then remove from the heat.
STEP 6
Remove the skins from the garlic and using a potato masher crush the cooked squash and garlic, snip the sage with some scissors.
STEP 7
Add half of the squash to the bottom of an oven proof dish (approximately 20 x 25 cm). Add 2 of the lasagna sheets followed by half the cream and spinach sauce, sprinkle over half pine nuts then half of the mozzarella. Add 2 more sheets of lasagne then the rest of the squash, 2 more sheets of lasagne then the rest of the sauce, more pine nuts and the rest of the mozarella.
STEP 8
Cover with foil then bake in a hot oven for 20 minutes. Remove the foil then return to the oven for 15 mins – for the final 5 minutes put under the grill if you prefer the top to be more crispy.
DAIRY-FREE MOOD. TOP NOTCH FOOD.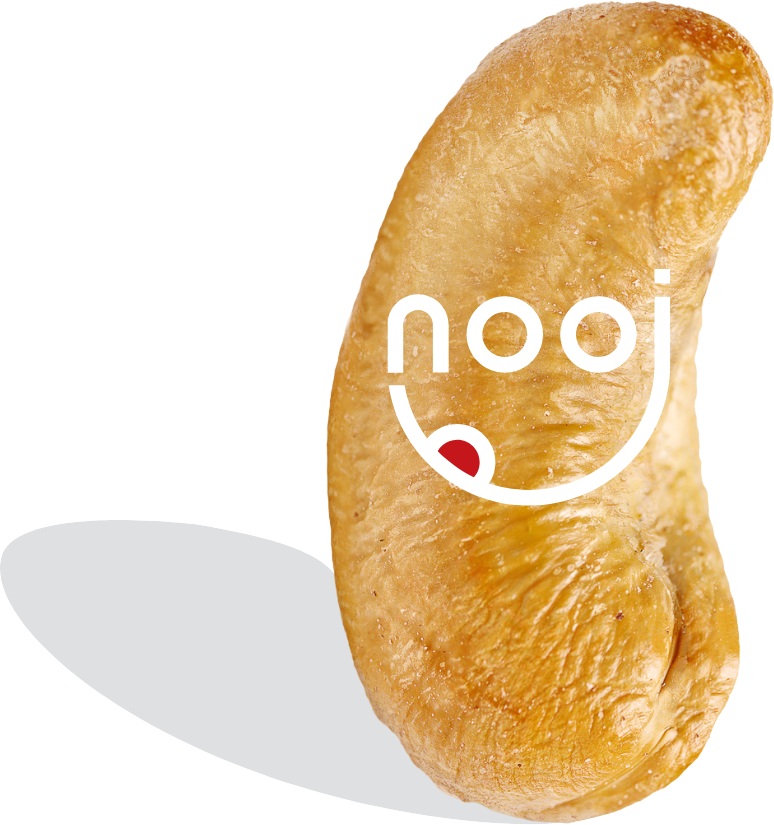 When mixing stock with nooj for lasagne, it's important to do it gradually, making sure you get that single cream consistency.